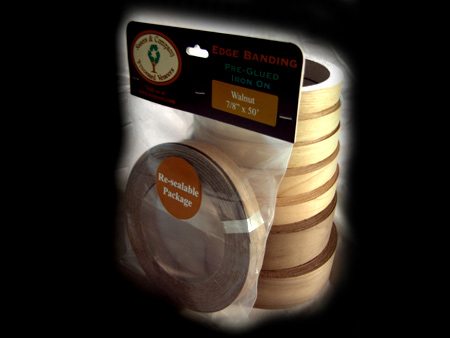 If you are planning to make furniture, but you want to cut your costs, you may be looking at high-quality plywood as an alternative to the more expensive hardwood selection. But you don't want your furniture to look like it's made of plywood – so how can you get the best of both cost-effectiveness and beauty?
One great wood veneer hack that might work well for you in this case is adding edge banding to your plywood of choice so that it gives the appearance of hardwood without your actually having to spend the money on the real thing. Simply lay the edge banding down on the sides to give the proper appearance, and voila, you have a great-looking piece of furniture on your hands!
What makes edge banding so great for this wood veneer hack is that it is easily applied with adhesive backing, and you can match the edge banding to your wood grain of choice for the most natural appearance and appeal. Whether you need to apply it to one side or in multiple areas, you may be the only one who knows that edge banding was the trick up your sleeve.
If you need help choosing edge banding or any other wood veneer sheets for your next project, just give us a call at Sauers & Company Veneers, and our experienced team will be happy to help you select the veneers that are right for your application. We carry many different products and are known for our high-quality wood veneers worldwide. We'd also love to hear if you have any other wood veneer hacks that work well!