Our edge banding is crafted with care to make your project the best it can be.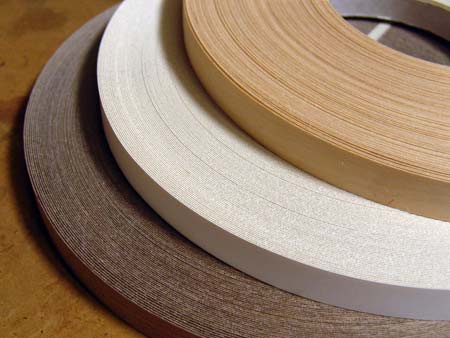 If you are looking for a way to put the finishing touches on your woodworking project and need edge banding to do so, you'll be happy to know that here at Sauers & Company Veneers, we offer those in the New York City area a solution. Our wood veneer edge banding is produced in the U.S. utilizing the highest quality wood veneers and melamines. We have more than 25 wood species to choose from with several different backing options to suit your needs.
Our backing options for our edge banding include peel-and-stick, fleeced-and-sanded automatic commercial rolls, and heat-activated iron-on. All are easy to use, and you can choose from our standard widths and lengths or contact us if your needs are different. We can also accommodate different wood species custom orders. Our experienced team members are on hand to help you place your edge banding order.
Your project will be completed successfully with the careful attention we put into our edge banding. We take care to generously space the finger joints and make them almost imperceptible, so you can get great results. Even the most enthusiastic and talented woodworker would often prefer to use our edge banding than creating it themselves.
If you agree and would like to know more about our edge banding options and quality, don't hesitate to contact us. Whether something we already create will fit your needs or we need to work with you to devise a custom solution, you can be confident that our more than 50 years of experience and dedication to customer service will get you the results you desire.