We produce all our veneers right here in the U.S., and they are considered to be the highest-quality commercially available veneers on the market today.
As an industry leader in the production and supply of veneers, we carry more than 125 different species and six backing options here at Sauers & Company Veneers. Ultimately, we make it easier than ever to meet your project goals, whether they be large or small. We produce all our veneers right here in the U.S., and they are considered to be the highest-quality commercially available veneers on the market today.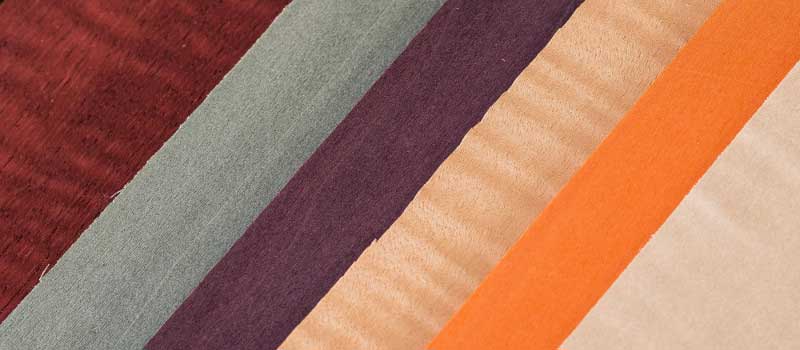 We offer an extensive line of options, which includes the following products:
Edge banding—We create our edge banding solutions from high-quality wood veneers and melamines. We offer heat-activated iron-on, peel-and-stick, and fleeced-and-sanded automatic commercial edge banding.
Veneer sheets—We provide a variety of options, so you are able to create unique projects. Our selection of sizes and colors is extensive, and our wood veneer sheets are made from the highest-quality veneer leaves.
Hobby packs—We use the finest veneers available to produce our hobby packs. These come in a wide range of sizes and color combinations and are great for all skill levels and abilities.
Inlays– We use the finest exotic and domestic hardwoods to create our inlays. We also provide consistent dimensions and a variety of attractive patterns.
The Many Advantages of Wood Veneers
Using wood veneers to create furniture and other products is a practice that dates back to the time of the ancient Egyptians. Within the woodworking industry, veneers refer to thin, smaller pieces of wood that are typically pressed or glued onto a surface. What are some of the advantage of wood veneers? Here are just a few:
Design interest—Some of the most beautiful pieces of wood today are formed into wood veneers. This means that veneers boast beautiful shades, colors, and design elements, which can add a level of interest to furniture, door panels, décor, and other features that would be hard to do otherwise.
Environmentally friendly—Much more wood can be harvested from a single log when the wood is formed into wood veneers than if the log were to be used for a single object. As a result, wood veneers are an environmentally conscious approach to making furniture pieces and other objects more beautiful.
New design possibilities—Since veneers are often small and thin, they can be glued to furniture and other pieces in interesting arrangements and designs. You can even mix and match different shades of wood and different species to create a look all your own!
Stability—Wood veneers glued to a stable substrate are not prone to splitting, warping, or seasonal movement.
Are you looking for high-quality wood veneers in a wide variety of sizes and styles? Turn to us here at Sauers & Company Veneers for everything from inlays and edge banding to hobby packs and veneer sheets!

Additionally, we offer a wide selection of accessories to help you complete your project, including veneer tape, veneer scraper, easy-to-understand instruction videos, and more.
Contact us at Sauers & Company Veneers today to find out more about our wood veneer options. We are eager to help you make your next project a success!